How to print, view, and save reports
Report Viewer enables you to preview reports and mailing labels before you print or save them.
---
How to print a report or mailing labels
Saving a report, displaying specific pages, and exiting the report viewer
Printing a report or mailing labels
After you set up a report, click the View Report button to
display the report. For example: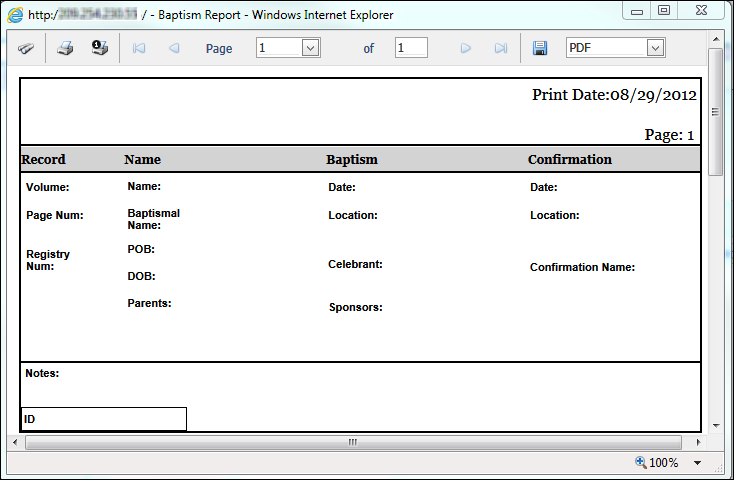 Use the buttons in the Report Viewer toolbar (located at the top of the viewer) to perform additional actions, such as viewing pages and printing and saving the report.
Report Viewer Toolbar Functions
The toolbar at the top of Report Viewer contains buttons that enable you to perform such functions as print, save, and display specific pages in a report.

Printing a Report or Mailing Labels
The toolbar has two printer buttons:
●

prints the entire report or list of mailing labels.
●
prints the selected page only.
How to save a report (or export)
You can save reports in a variety of formats, including text (.txt), comma-separated value (.csv), Microsoft Excel (.xls), and Portable Document Format (.pdf).
In the upper right corner of the Report Viewer toolbar, select the format for the report:

Click .
Select

Save File

. Then, click .
Displaying pages in a report
● To display a specific page of the report, select the page number from the Page box.
● To page through the report, click the page forward or page backward buttons.


Closing Report Viewer
Click

to close Report Viewer.
---
Related Articles
How to create a Kenedy Statistics Report
How to Create a Parish Directory Listing