How to view or update a member's record
The system protects the member's record by granting full view (read) and edit (change) permissions to the owner of the record only. Administrators can view the member's record, but may have limited editing permissions.
---
If a member's record currently has pending changes, you cannot edit the record until after the organization administrator reviews and accepts those changes.
Click Member List to display the Member List page.

If necessary, select the organization from the Organization list.
In the Search field, type the name of the member whose information you want to view. Then, click .
Select the link under the member's name. The Member Details tab for the selected member is displayed: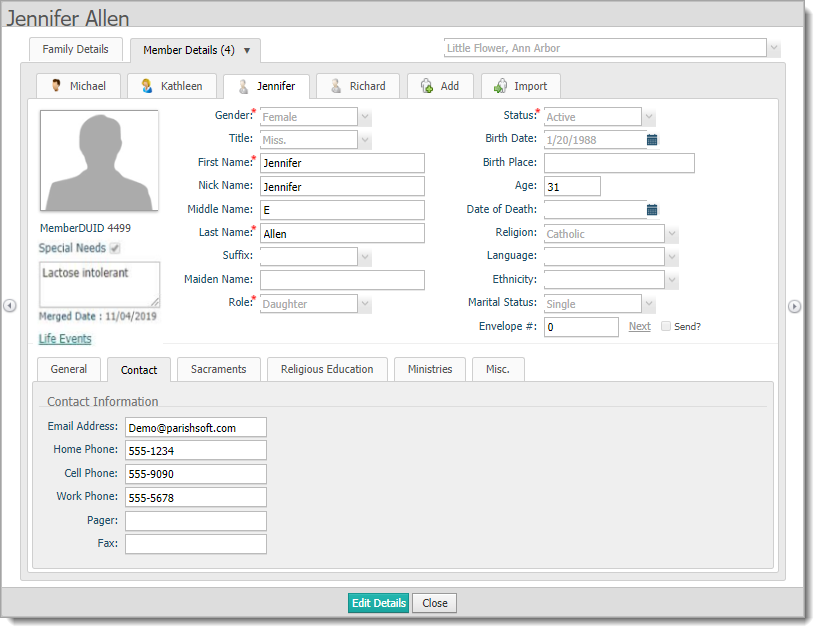 The form shows the member's current information. The form is in read-only mode.
The tab controls at the bottom of the form organize the information about the member. For example, the Contact tab displays the member's contact information, such as an email address and phone numbers.
To edit the record, click Edit Details. The form opens in edit mode, enabling you to make changes to the fields.

You can start by clicking your cursor in any field on the form. Press the Tab key to advance to the next input field.

See Field Descriptions for the Member Details Form for descriptions of the fields.

 If you are editing the member's sacrament information, you must have the required permissions. For details, go to Understanding_Permission_Settings_for_Adding_and_Editing_Sacrament_Data.
Update the information as needed.

Do one of the following:

Click Save to save changes to the form in the database. The tab remains in edit mode to enable you to continue making changes.

Click Save & Close to save the changes to the form. You exit the tab and return to the Member List.

Click Close to exit the tab and return to the Member List. You are prompted to save or cancel changes.

Click Cancel to cancel to exit the tab without saving changes.

Click Delete to delete the selected family member's record.
Related Articles
Field descriptions for the member details
How to add or edit a sacrament record in member details