How to create custom labels with envelope numbers
This process uses a combination of a CSV file of your family list together with one of the attached mail merge templates to create custom labels. To jump to step-by-step written instructions, click here.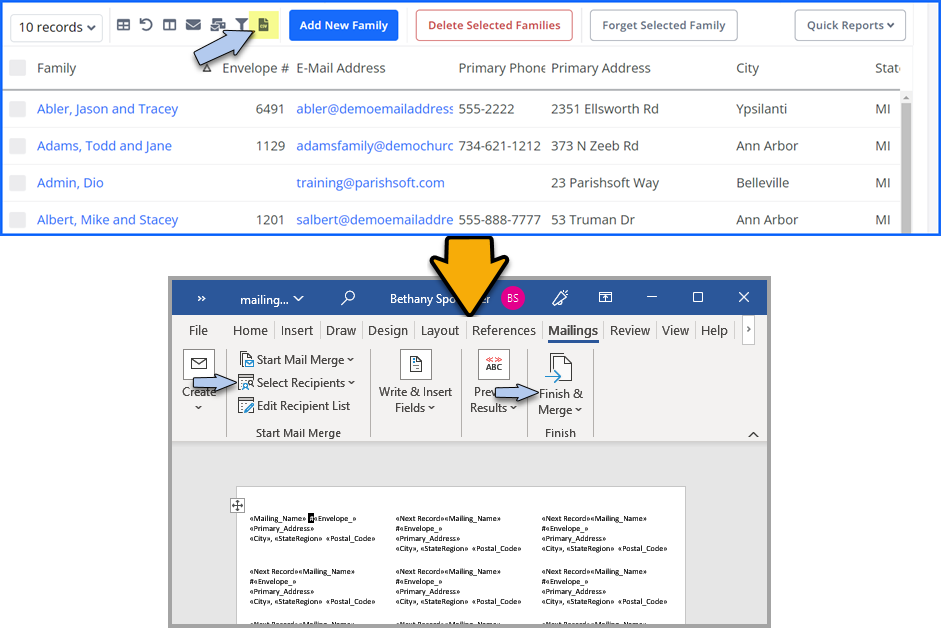 How to create custom mailing labels with envelope numbers
Prep: Filter the family list for those records for which you want to create labels. If you want your list sorted by envelope number, you must sort it in the family list before exporting it or sort and save the CSV file.
Note: Only a family list export may be used with these templates as the field names must match.
Prep: Download and open one of the two attached documents found at the bottom of this article.

The top one prints the envelope number above the family name on the label.
The bottom one prints the envelope number to the right of the family name.


When you open the file, you may see some warning messages.

If prompted, click the Allow Edit button at the top.
You may also get the following message. Click 'No.'


Click the Mailings tab.

Click Select Recipients → Use an existing list (and select the new list).

Once you click Select Recipients, you will browse to your saved CSV Family List file.

Click Finish and Merge.
Print your labels.