How to get a listing of all contributions for a specific family or member for a timeframe
There are a few ways you may get a listing of contributions for a particular member or family. Note, for each instruction that follows which uses "Family" you may substitute the word "Member" if you are looking for information on Member giving.
Contributions page (Filter Panel) | Donor Report
Contribution page (Filter Panel)
From the Family List either learn the envelope number or the Family ID.
Go to the Contributions page.
In the filter panel at the right, either:

enter the envelope number in the Envelope field and click search at the top of the filter panel.

or, click the search button in the Contribution Family field and there, type in the Family ID and click search or use the other identifying information to pull up the family.


Select the export button at the top right of the page → Contribution Export → Excel.

On the resulting Excel sheet, find the column for Contribution Amount.

Click into the cell after the last amount listed.
Click the Sum button at the top.
Click Enter.



You may save and print this page or just use the information you have gathered.
Donor Report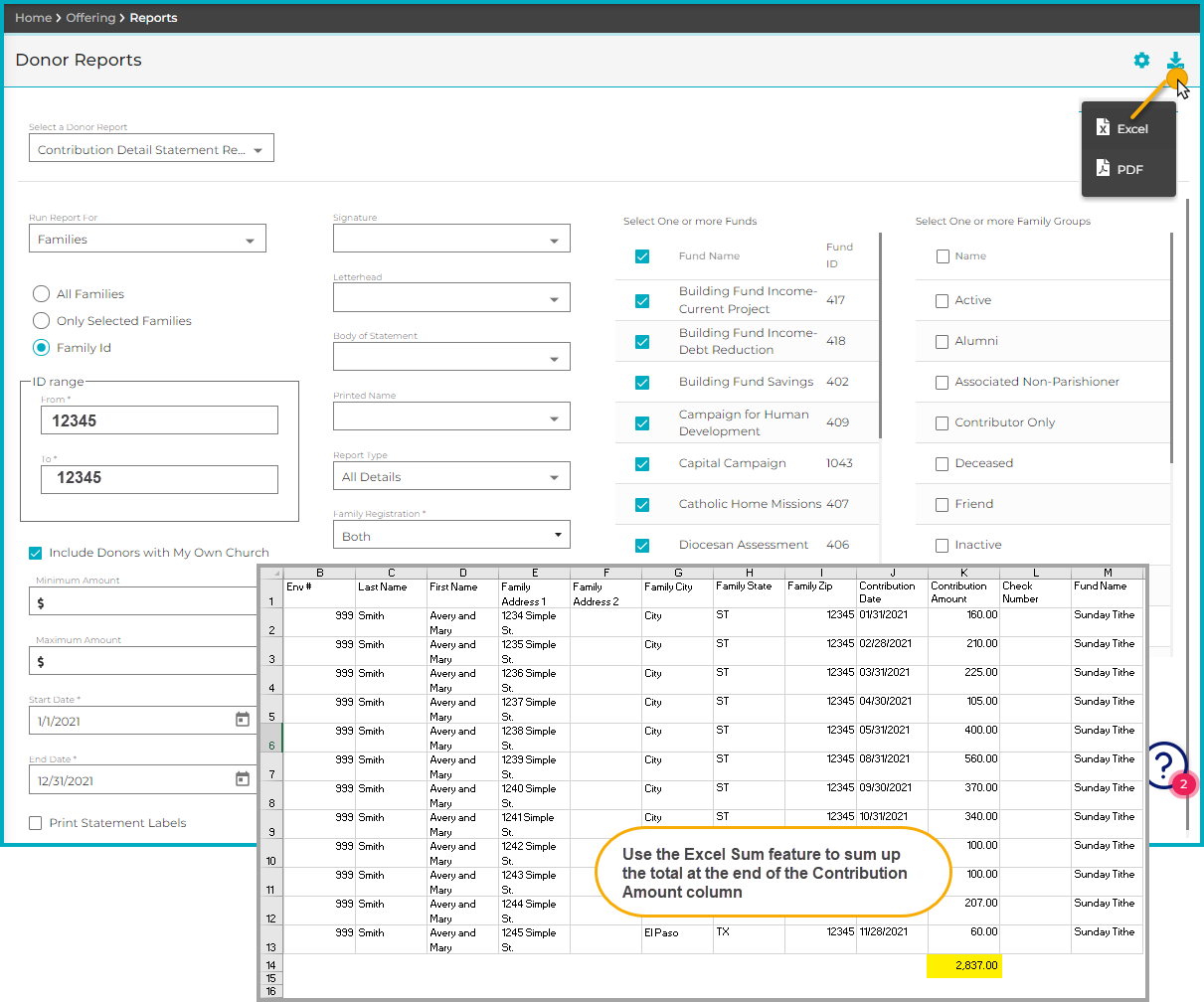 In the Family List, you may find the Family ID.

Use that in the Reports → Donor Reports → Contributions Detail Statements by selecting Families under "Run report for". *If you are looking for information for a Member and not the family, change this dropdown to Member and use Member in place of the word Family in all the instructions below.
Then select the Family ID radio button.
Under ID range in both the From and To fields, enter the family ID for which you want to see the total contributions for the time period.
Leave the default of "All Details" under Report Type.

In the upper right corner of the page, you will see an Export button. Select that and then choose Excel.


This will give you a listing of all the donations from this Family ID for the time period filled in on the page.
Once the Excel report is generated, find the column for Contribution Amount. Click into the cell below the very last Contribution Amount that has data and then click the Sum button at the top of the spreadsheet. This will sum the entire column.

For details on how to use the sum feature in excel, see the last image in the option to export the contributions page for the donor above.