When I log into Facility Calendar from my Family Suite Tab I get a message that says "Incorrect username/password."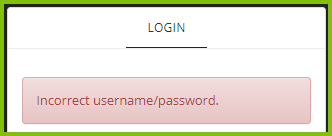 Although you may access the ParishSOFT Facility Calendar from the ParishSOFT Family Suite tab, it is a separate program with its own login credentials.
If you want your username to be the same username that you use to access ParishSOFT Family Suite, you must request that your administrator update the username to match.
If you want your password to match, you must either work with your administrator to add it or use the Forgot Password link on the login page to reset the password to your desired word or phrase.