How to save a view using filters
Once you have created several events, you may use the filters at the bottom of the calendar to limit which events display at any given time.
Some reasons for limiting the view are as follows:
Filter for all events that are held in Fellowship Hall to see when the hall is next available to reserve.
Filter for all youth events held in the gym to post on the youth website.
Filter for all public events to post on the church's website
Simple Filter: When a view is simple, only made of one filter, and not required to be posted to a website, you may simply filter the view on the spot and view the resulting calendar to get the necessary information.
This is the case for the first example above where the administrator wants to see when the hall is next available to reserve. In this case, simply select the Rooms button at the bottom of the calendar and mark Fellowship Hall. Close the filter button by clicking the Rooms button again. The calendar should now only show those events scheduled to be in Fellowship Hall.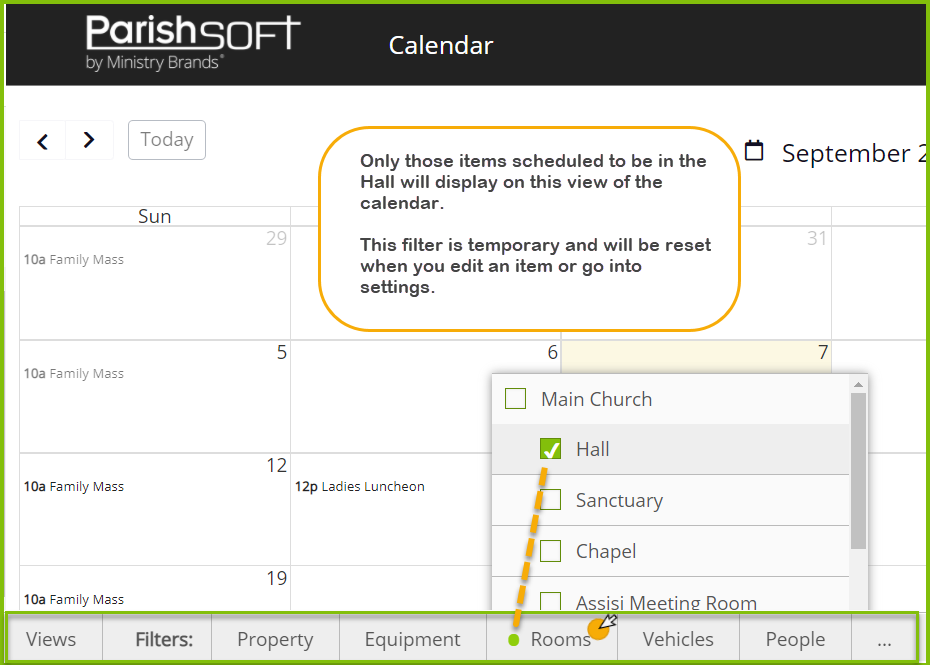 Complex Filter: A complex filter is one set for several categories or properties. For example, you may have several events marked with the property named youth. If you only want a view of youth events that meet in the gym, this becomes a more complex filter. A third filter may be added if you want to display only those youth events that meet in the gym with a contact of Coach Drew.
A Complex Filter will likely show a green dot to the right of several filter categories although sometimes a complex filter is made up of one category with several filters selected.


When you want to make a more complex filter such as filtering for several categories or properties, and especially if you think you will want to apply these filters frequently, you may decide to save these filters by adding a view. Then, instead of having to reset each filter every time, you may simply select the view.
How to make a view of several filters available for re-use
To add a view, after selecting all of your filters, click the Views button and then click Add a View.
In the pop-up window, type in a descriptive name for this view and click Add.

Now, whenever you want to pull up the view with those specific filters, simply click Views and click the checkbox. The calendar will immediately update for these filters.

When you create a view, it will automatically generate a link for you to upload to a calendar such as a google calendar, or code to embed into a website. For more information on this, click here.