How to print 1096/1099-MISC and 1096/1099-NEC forms

New in 2020 there are two 1099 forms for other Vendors: 1099 NEC for non-employee compensation and 1099 MISC. Review IRS Guidelines to determine what type of 1099 the vendor needs.
See How to set up a vendor to show on the correct 1099 form (1099-NEC or 1099-Misc)
To navigate to the correct form go to:
Ledger & Payables → Reports → Vendors → 1096/1099 - Misc. or 1096/1099 - NEC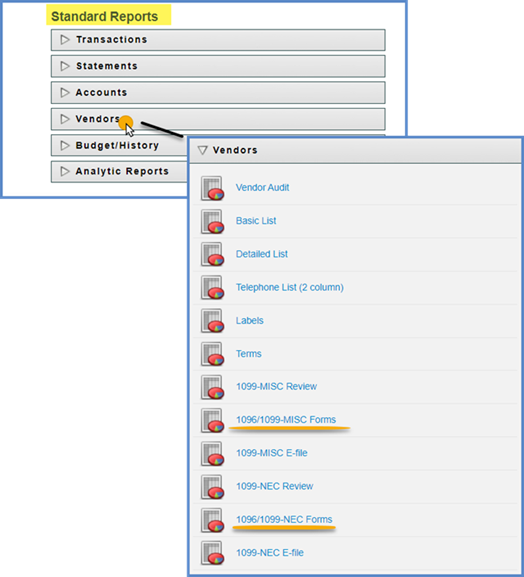 In the Report Configuration screen, select the Calendar Year for which you would like to print your forms as well as your other pertinent filters.
Under Form Name, select from the following options: 1099-MISC or 1099-NEC 4-Up Blank Paper or 1099-MISC 2-Up Pre-Printed or 1099-NEC 3 Up Pre-Printed depending on the form you are printing.

The blank paper option prints the form as well as the data.
The pre-printed option just prints the data since you are printing it on the form.
Note: There is no blank paper option for 1096 forms. For these, you must use the pre-printed IRS forms. Also, there is no electronic processing of 1096 forms.
Blank Paper Option:
When you choose 1099 4-Up Blank Paper:
You will get all four necessary forms: Copy 2, Copy B - For Recipient, Copy 1 - For State, and Copy C - For Payer;
NOTE: The 1099 Copy A has to be purchased just like the 1096 and you have to use the Pre-printed option of the form your are printing from (added)
You must print the 4-up blank paper forms once for each Vendor.
Although you still need to follow our protocol for proper alignment, using the blank paper option eliminates the minuscule alignment issues that may present themselves to certain printers.
Pre-Printed Form Option:
When you choose the 1099-Misc 2-Up Pre-Printed or the 1099-Nec 3-up Pre-Printed option:
You must use the forms provided by the government and two/three vendors will print per page.
Changing forms for each run, you must print the forms four times then sort them according to Vendor and half them before sending them out.
You must also follow the protocol for proper alignment to ensure the forms line up properly.
As noted above, there may be a few exceptions and if after following our protocol your forms are not in alignment, most customers have success when using a different printer.
Click the following link for information on (what criteria determine to whom you should send a 1099) Vendor 1099: Reporting Requirements
Updated