How to generate a Parish Master Report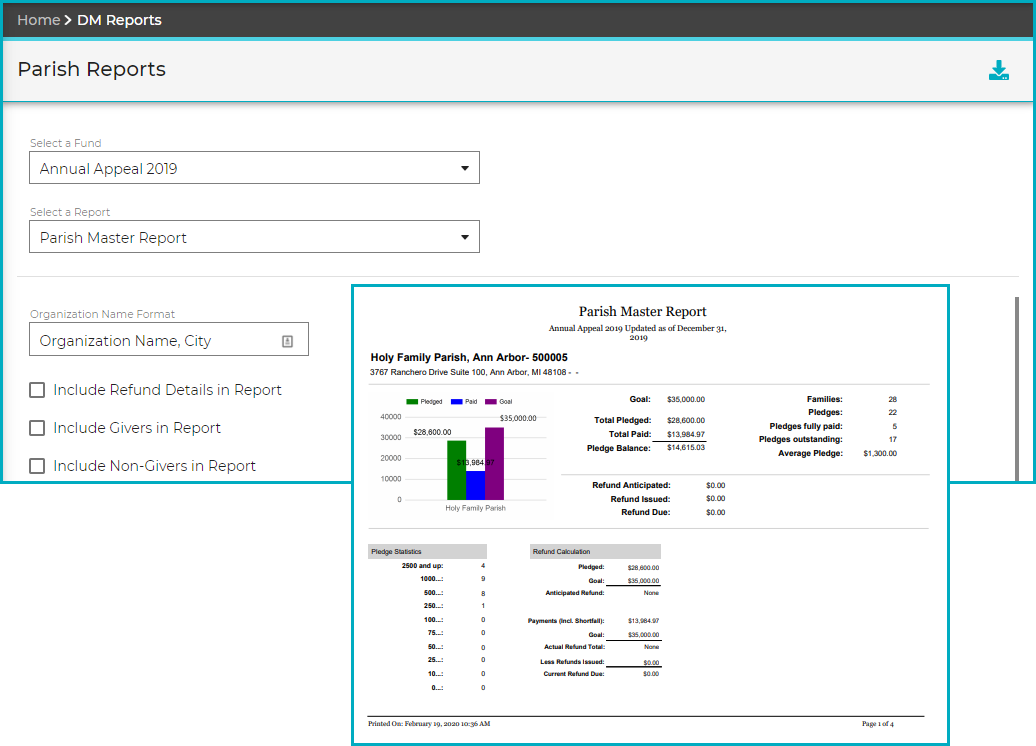 Click Reports → Parish Reports from the Side Bar Menu.



Fund and report

The default format for displaying the names of organizations in this report is the name of the organization followed by the name of the city. To reverse the format, select the

City, Organization Name

option from the

Organization Name Format

list.

By default, the three sub-report options are not selected.



Refund Details

: provides line-item detail associated with the refund checks issued by the diocese to the parish. This report can serve as a useful accounting resource to support major fundraising activities, such as multi-year capital campaigns and annual appeals.

Givers

: generates a list of the names of givers to the selected fund along with giving details (for example, amount pledged, payment frequency, the amount paid, and balance owed).

Non-Givers

: generates a list of names of individuals who have not yet given to the selected fund.

You have the option to include a start and/or an end date. If either is selected, click the calendar icon in the

Date

field.

From the

Organization

menu, select the organizations you want to include in the report. To select, click the checkbox next to the desired organization(s).

To view all organizations in the report, click the checkbox next to the organization header.

Click the

export action button

.

You may send your report to

Excel

or create a

PDF.
The report will save to your

Downloads folder. Some browsers will display a menu with Excel or PDF options to open or print on the spot. This example was done in Chrome.