How to add or update a large number of users at once via import (Bulk import)
Also described as 'How to import a spreadsheet of users into your ParishCast system'
Only one user-level may be imported at a time.
The file must be saved to your computer as a spreadsheet, excel file, or csv file.
The file must be organized with column headers in the first row
Once you have met all of the above criteria, hover your cursor over users and click import users.

Choose the file.

Click Next Step.

See the screenshot below to define how you want the contacts in the spreadsheet to import.
A) Map the spreadsheet. In the grey box on the left, all of the column headers from your spreadsheet are listed. Go to the user and contact information fields and select from the labeled dropdown field the column header from your spreadsheet which matches. (see screenshot below).
B) User Options: Do Not Delete any Users or Delete Users that are NOT in the Import file.
C) Contact Options: Do Not Delete any Contacts, Delete Contacts that are NOT in the Import file and the User has NOT LOGGED IN, or Delete Contacts that are NOT in the Import file EVEN IF THE USER HAS LOGGED IN.
D) User Type

A Staff user is enabled to receive text messages, phone calls, or emails from their organization's communication system. They can also log in to review and edit their contact information within the organization's system.
A Member user has permission to send alerts and past alerts to specific groups.
An Admin user may not be added through bulk import.
Map the fields to the columns on the spreadsheet.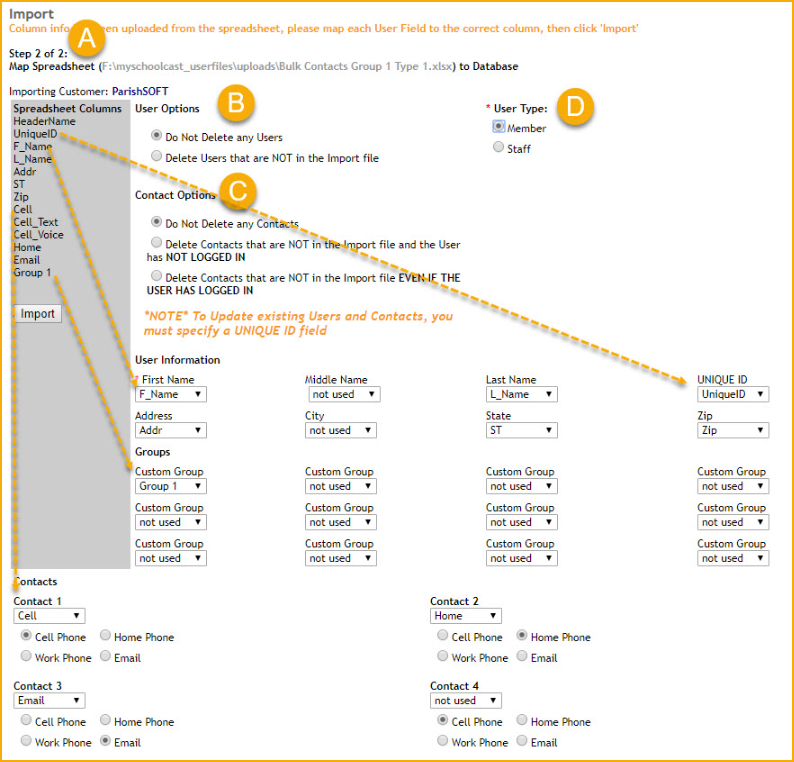 Note: The unique ID should be either the Family DUID or the Member DUID. This will prevent duplication when importing in the future. New imports will update the member's information without duplicating when the DUID is used on all imports. Once you choose which type of DUID you are going to use, make sure to stick with that to avoid later confusion.
Once all of the fields are mapped and the other options are selected, click the Import button in the grey box.

The next screen will display your import results.

Note: since the users in this import were already in the database, the results show how many were updated.
Once the users have been imported, a username and temporary password is generated for them by the software. You may generate a welcome letter to send them which will include their login credentials. The user may then update their own contact information.