How to personalize your account username and/or how to reset your password

When you first move to ParishSOFT Accounting, you have been given a generic login account username, usually your customer number or the words Conversion User. At this point, it is important to personalize your account username.
Also, some customers use generic account names when they create new users, such as "secretary" or "bookkeeper." This is not recommended as discussed below.
Why is it important that each user has their own personal login?
Keep your finical records secure
Allow us to quickly support you
Ability to see who processed a transaction
Ability to restrict access to software or areas of the software
If you use a generic email address such as secretary@emailprovider.com or bookkeeper@emailprovider.com you will not get our new release notifications since our email provider will not send them to generic email accounts.
Logins should be reviewed to verify that the user's First Name, Last Name, and Email address are all correct. If a login name is showing as Conversion User it needs to be updated to show the person's first and last name who is using the login.
If an account is no longer needed it should be deactivated.
To have an accurate audit trail and for security reasons, a login should never be changed from one person to another or shared.
If more than one person has used a login, a new login for each person using the software should be created. Then the login that has been used by multiple users should be inactivated.
How to update the account
To update each account, go to Church Manager → Users → Click Go next to the user. If you cannot do this, you must ask someone with admin rights are your organization to do it.
Update the user's information. Be sure to enter a valid email address.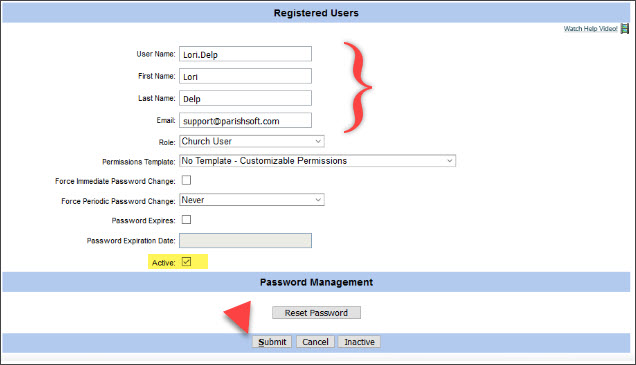 Note:
Password must be a minimum of 8 characters and a maximum of 12 characters
Password must contain at least one digit and one special character
Updated