How to set up fund mappings in ParishSOFT Giving

To map funds from ParishSOFT Giving to Family Suite, first, you will need to configure your Integration login credentials. See the following article for instructions and then return here to complete your fund-mapping: How to integrate ParishSOFT giving with ParishSOFT Family Suite Offering.
Once you've entered the correct credentials you will be taken to the Overview page where you may map your funds.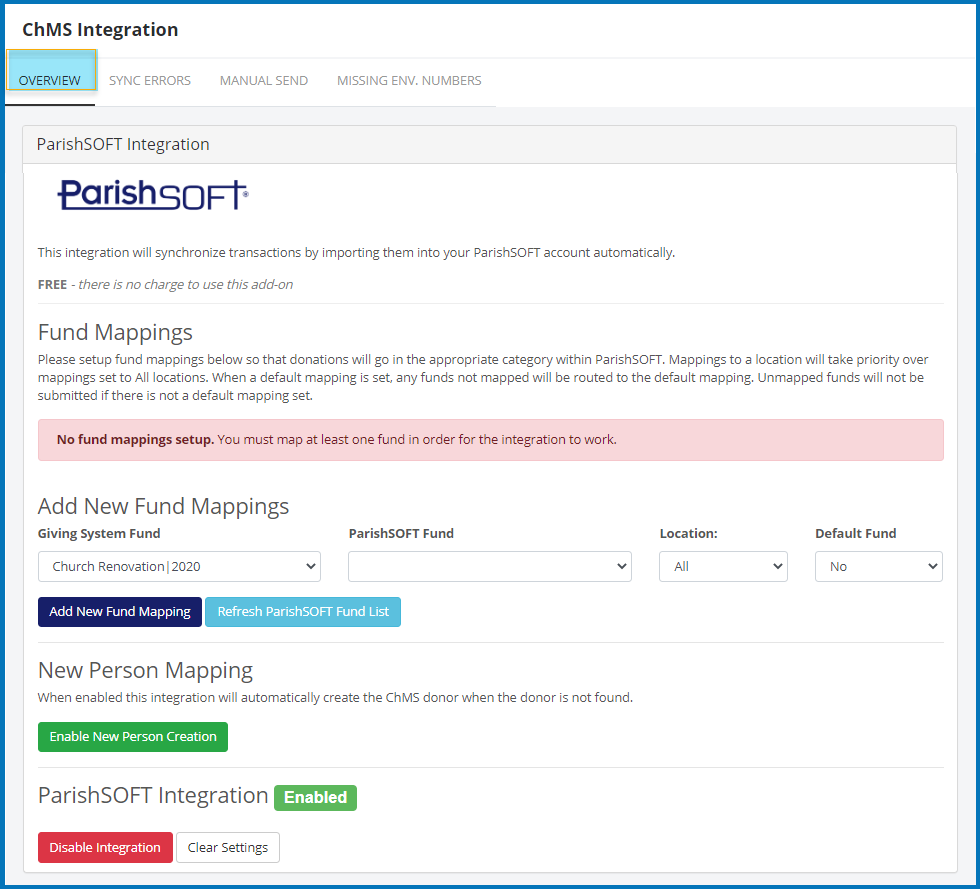 How to map your funds
To map a fund, select the giving system fund, the ParishSOFT fund, and if multiple campuses exist, choose one of the campuses or all. Marking the fund as the 'default fund' is optional and explained below.


You can have multiple funds in Giving go to a single fund in Family Suite, but not the other way around. Steps 1 & 2 must be completed for each mapping.
Once mapped, the giving system fund amount will be posted to the Family Suite fund upon import.
While it is not required to have a default fund, you may choose Yes or No for the Default Fund option:

A default fund is the one that any mismatched contributions will import into; you should only ever have one default fund at a time. If you have a default fund, all contributions will integrate. The ones that have funds with no mapping set up will simply integrate into the default fund in Family Suite. This function allows Form-Only Funds to integrate if no fund mapping is present.

We recommend that you select No if you only want the funds with mapping to integrate.
If you want all your funds to integrate, even those without fund-mapping, choose Yes.

Once you've made your selections click the button, Add New Fund Mapping.

Once you've successfully added a mapping, it should display in a list in the Fund Mappings section of the ChMS Integration page.

Once you're finished, to ensure integration is turned on, see the following at the bottom of the Overview section.

If Integration has not been turned ON, then you will need to click the button that says "Enable Integration".