How to import deposit transactions from Simple Church/Elexio
As of 03/20/2018, a process is available which allows you to import deposit transactions from Simple Church Contribution transactions.
Go to Process → Contribution Transfer → Transfer From SimpleChurchCRM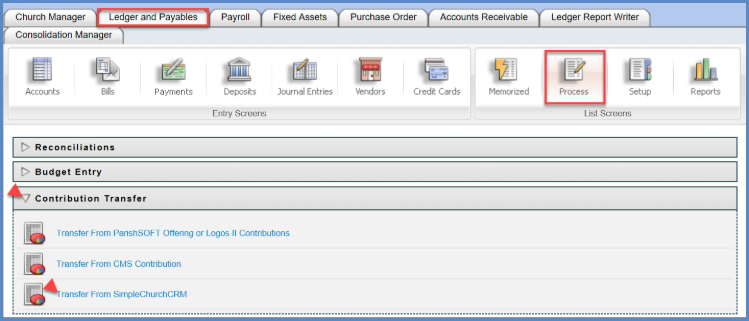 If you need instructions for exporting contribution files from Simple Church/Elexio, contact Simple Church Support. Click the following link to access the

Simple Church Website

contact form. Or, call the Simple Church Support Line at: 1-866-392-1744 Ext 1 (Mon-Fri 9am - 6pm Eastern)
Sample import file.


How does the accounting program know which accounts to use for each Simple Church/Elexio Fund?
The first time you import a contributions file from Simple Church into ParishSOFT Accounting, you will map your charts of accounts to the Simple Church Funds so the two systems correlate. In such instances, a pop-up window is displayed that steps you through the mapping process.
Note: Mapping is not required for subsequent imports unless you use an account in the import file that has not yet been used to import transactions.


On the next screen, choose the bank account and mark the select box to import the contributions.


Updated