How to import vendors
A specially formatted vendor template file is provided along with import instructions. We recommend that you use the template to help ensure a successful import.
Caution: If you include a large number of vendor records in the import file, the system may be very slow to open the Bill information page. To obtain the best page load speed, limit the records in the import file to include only those vendors for which you need to enter transactions.
To access the import template and instructions go into Ledger & Payables → Process.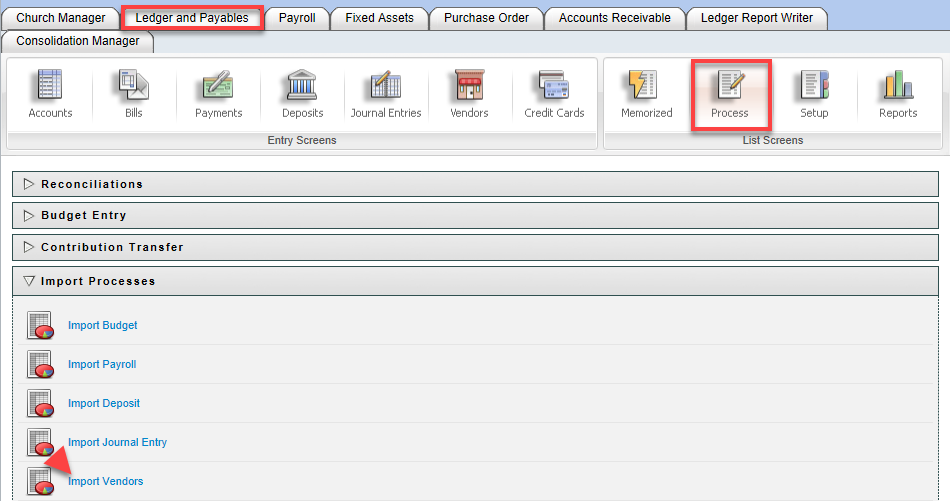 In Ledger and Payables, click Process → Import Processes.
Select the Import Vendors link.

Click the link to download an import Template file.

In the Organization Transaction Templates menu, select the Vendor Import Example option.
Then, select the link to download the template file: Vendor Information Import Template.xls.

Change the name of the downloaded template file to one that is meaningful to you.
Save the renamed file as a .xlsx file (Excel Workbook 2007 or later). Any other extension will fail.

Enter your vendor data into the template. (The Vendor Template Field Descriptions table is at the bottom of this article.) Note, the only required field is the Vendor Name.

Open the template
Starting in row 2, enter the data for the first vendor record.
Move to the next row to enter the next vendor's record, etc.
When you are done, save the file.

Import the vendor data file


Follow the steps as shown above in steps 1 & 2.
Click the Browse button to browse for the file you saved in step 4. Then, click Import.

If unsuccessful, fix the errors and re-import the file.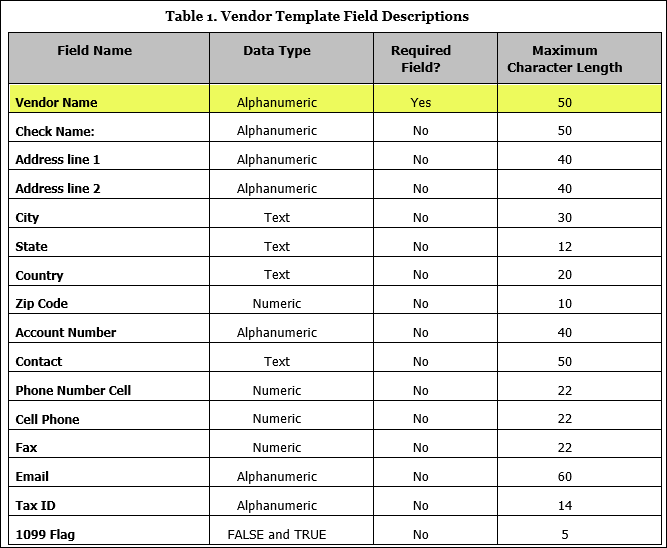 Updated