How to edit my family record
Sometimes there is information in your Personal Family and Member Record that needs to be updated. You can do this yourself in My Own Church.
Log in to My Own Church.
Once you log in, you will be brought to the Home page for My Own Church.

Click either My Family from the Quick Links, or the My Family tab at the top of the page.

On the My Family page, click Family Detail. (shown above)
If you are editing Family Details (Info for the Entire Family), then click Edit Details and make your changes. To Add or Change a family photo, click on Add or Change under the photo or placeholder. You will be given the opportunity to Browse for a photo to upload. **Note: Photos, as with all changes made to Family information, are subject to review by the Parish Administrator before being approved.**

When you click the Edit Details button and make changes, a new panel of buttons is displayed at the bottom of the page. Once you are done making changes, click Save.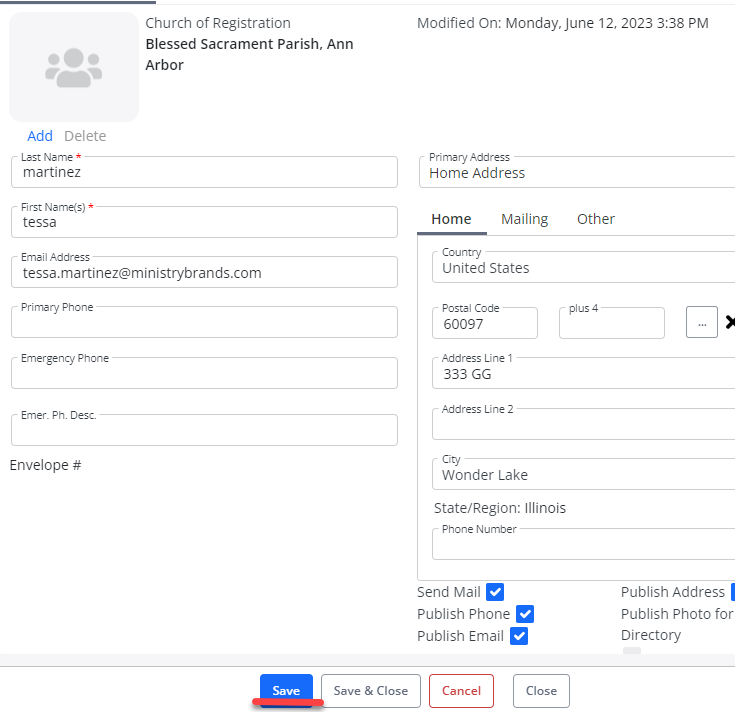 If you must edit your individual Member details click the Member Details tab and then click the tab for your name. In this example, the individual's name is Parishsoft.

Click Edit Details.
Make any changes you need to the Member Tab, and then click Save, or Save & Close unless you have other member records to update.

Once you are finished click Close.


Updated