About the report viewer
The Report Viewer enables you to preview reports and mailing labels before you print or save them.
---
Report Viewer Toolbar Functions
-
Report Viewer
After you set up a report, click
Click Here to View Report to display the report in the Report Viewer.
If the report does not display, check your browser settings to make sure that pop-up settings are enabled.
Use the buttons in the Report Viewer toolbar to perform report-related tasks, such as viewing pages, printing, and saving the report.
-
Report Viewer Toolbar Functions
The toolbar at the top of Report Viewer contains buttons that enable you perform such functions as print, save, and display specific pages in a report.

To view the function of a button, position your mouse over it to display its tooltip, as shown in the above illustration. To activate a function, click the desired button.
-
Printing a Report
The toolbar has two printer buttons:
The Chrome browser automatically inserts a header and a footer on the report page. If you do not want a header or a footer, you must disable (uncheck) the Headers and footers option at the bottom of the Print preview panel as shown in the following illustration: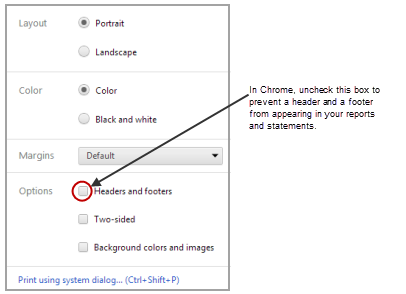 ●
prints all pages in the report or pledge statement.
●
prints the selected page only.
-
Saving a Report
You can save reports in a variety of formats, including text (.txt), comma-separated value (.csv), Microsoft Excel (.xls), and Portable Document Format (.pdf).
In the upper right corner of the Report Viewer toolbar, select the format for the report: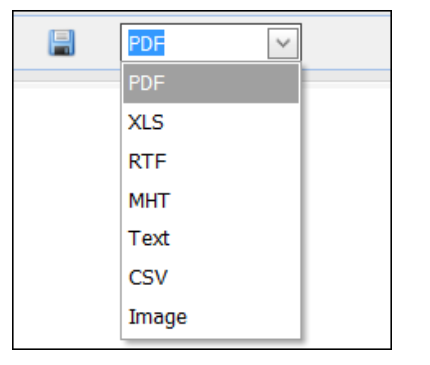 Click .
Select

Save File

. Then, click .
-
Displaying Pages in a Report
● To display a specific page of the report, select the page number from the Page box.
● To page through the report, click the page forward or page backward buttons.
-
Closing the Report Viewer
Click

to close the Report Viewer.
Related Articles
How to Create a Batch Detail Report
How to Create a Postings Report for a Given Date Range