How to build a query reporting non-givers for your specified date range
Use the images below to build a query which meets your specified criteria.
To get this information in its simplest form, use the first three expressions shown below in the Query Columns image and only the very first query condition (which contains a sub-query) shown in the Query Conditions image. The sub-query is for all who gave more than 0. The first condition in Query Conditions returns all records that do not meet the sub-query condition (not in sub-query). It will return all records with no giving.
For a more complex query, the complete images of the query below are going to provide even more details as follows:
anyone who has an envelope number
parishioners who registered before a certain date
specifies the organization
This is a query that can be built and saved globally for all parishes in your diocese to use. Just remember, diocese administrators won't be able to see parish contributions without a staff assignment and fund permissions at the parish level.
Query Columns


Query Conditions


Sub-Query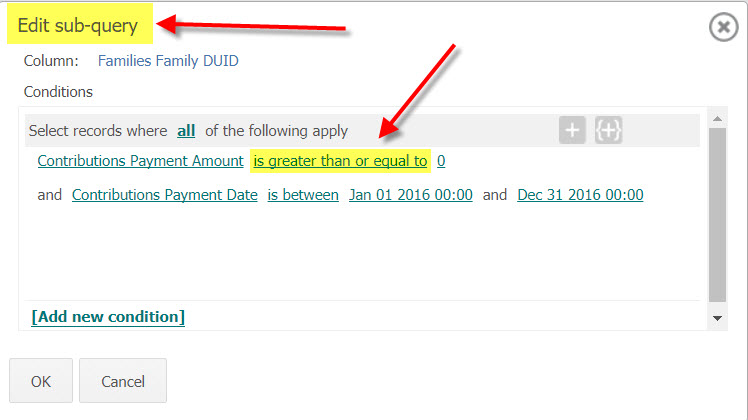 **One thing to note about this query is that it will differ from the other queries you are running for contributions information. You will not be including contribution information in your columns first because in the 'Non-Giver' scenario you are essentially looking for information that is not there. So that is why we didn't start the query with contribution information.
---
Related Articles
How to add, remove, or replace a column
How to add, edit, or remove a condition
How to build sub-queries in IQ
How to enable DDM report permissions for parish employees