How to set permissions for a Church User Account (only done by Church Admin or Dio Admin)
There are two types of users: Church Administrator and Church User. A Church Administrator has no restrictions in the system and can manage permissions for Church Users. This designation is set when the User Account is first created. If your organization does not have any Church Administrator designations, you must contact your managing organization such as your diocese to add new users or set permissions.
*Note: if the Church belongs to a diocese, some restrictions may be in place even for the Church Administrator.
To update the Church User's Permissions:
Click the Permissions Icon in the Church Manager tab (image below left).
Under Quick Find (right side of the screen), select the Profile.
Click Select Person (image below right).

Selecting the person's Permissions Record will display the modules and each function within that module for which permissions may be set. There are options specific to each module. Yours may look different than the screenshots below depending on the Modules you own.
In order for a user to see a module (e.g. Ledgers & Payables, Payroll, etc.) You must check the Show box in Permissions (see orange arrow in the image below). Permissions, in general, may be restricted with: Read, Allow/Write, or Delete.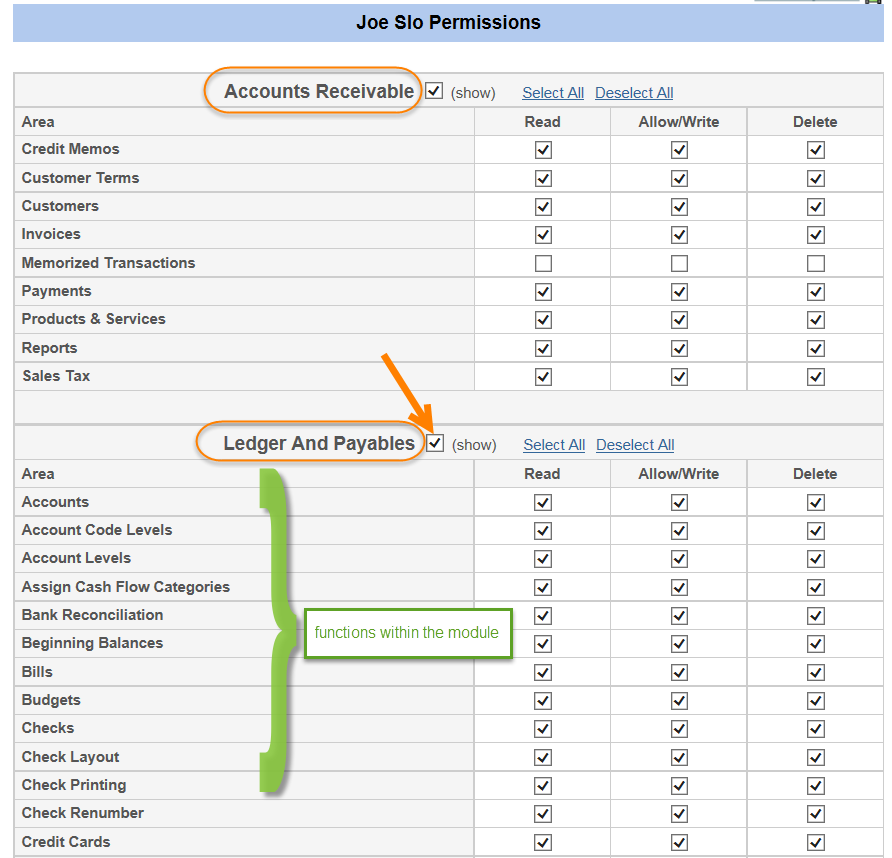 Carefully consider which options your new User Profile should access. One item of particular interest may be the Prior Period Adjustments option. This will allow journal entries for Prior Month and Prior Year Adjustments. You may want to consider leaving this marked for only the Church Administrator login.
Once you have determined the Permissions for this new Profile, click Submit.
For Diocesan Administrators:
In Church Manager, Options, if you turn on Entity-Level Restrictions you may Restrict which accounts the user is able to see by restricting access to one or several entities: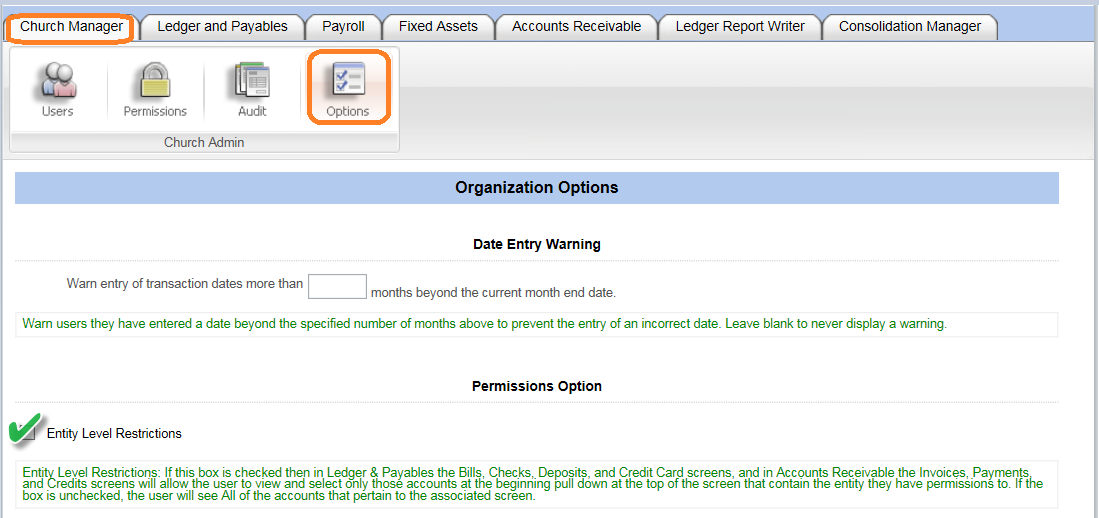 Once the feature is turned on you can see this screen in the User Permissions:


---
Related Articles
Updated