How to eliminate former employee records from printing on reports

For many reports in the Payroll Module (such as Employee Directory, Tax Status, and Pay Status), you may filter the data by Pay Group. To eliminate former employees from printing on these reports, you may create a Pay Group called Former Employees or Inactive Employees.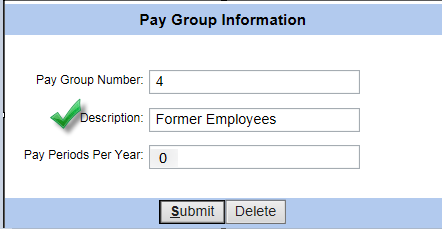 Once you update your Employee record to the new Pay Group, you may filter this group out when running certain reports.
-
How the filter works
When printing a report in the Payroll Module, if a Paygroup(s) filter exists on the Configure Report Page, you may click the first Pay Group you want to include, then the press the shift-key and click the last Pay Group in the series. This will allow you to select all items between the two selected groups and easily omit the Former Employee Pay Group.
This filter trick works on all reports in ParishSOFT Accounting. Also, you may select non-consecutive groups by pressing the CTRL-Key and selecting each individual field.
---
Related Articles
How to run a Payroll Summary Report for one employee for the whole year or just for a few payroll periods
Updated