Missing or Incorrect Gross Pay Account on a Timecard for employee
Normally you will see this error for a particular employee under the following conditions:
An additional line item is added to a Time Card (such as a Bonus) during the payroll process
No distribution was added to the Time Card
This will most likely happen when the employee has their paycheck distributed to more than one account (set up through Employees → Pay Data), but it does not include a Bonus line item with the distribution.
At the end of the year, when Christmas Bonuses are given, a line item is added to the employee's timecard. When the Christmas Bonus (including the distribution information) is not set up under the Employee Record, the distribution must be added to the timecard record or the error will generate.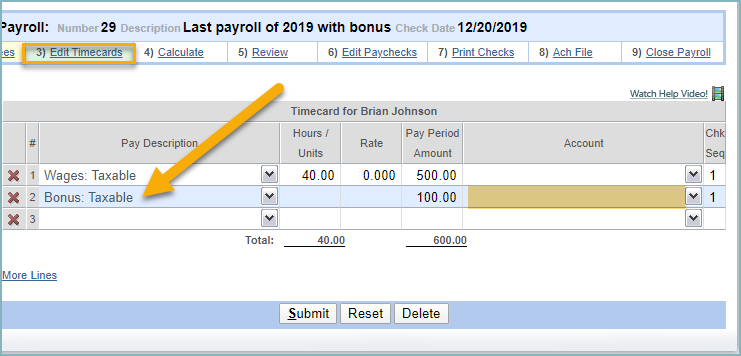 The following is an example, an employee has their pay distributed between more than one Expense Account. This may happen when the employee works part-time for two different departments.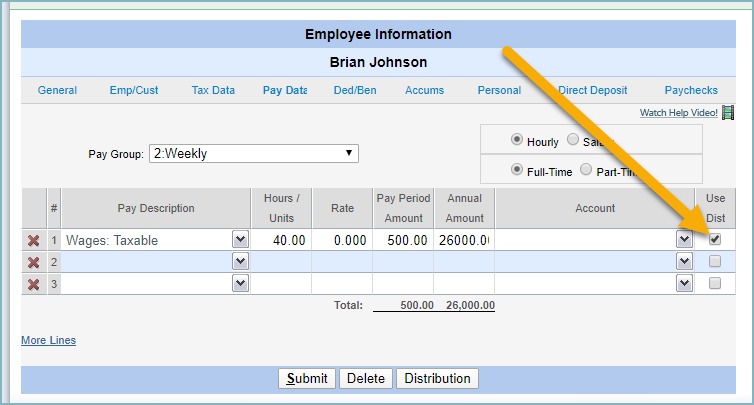 Since the Bonus is not on the Pay Data tab in Setup, there is no distribution recorded for the Bonus item here. Therefore, the Bonus distribution must be added to the timecard.
Updated