How to log in to the Support Center for the first time
Welcome to the ParishSOFT Support Center! This site allows you to submit requests to our support team more quickly and track the progress of those requests as we work to address any questions or problems that arise as you work.
When you receive an email from either our support or implementations teams, you will see a link to your ticket that looks something like this (below): When you click your ticket link, you will be taken to the sign-in page.



.
The first step is to sign in to your profile. From the main page (or from this page), click the Sign in button in the top-right corner of the screen (A). All customers who have ever called or emailed support with a question or technical issue have "submitted a ticket" and have a profile. Once you sign in, you may view your ticket activity.



When you click the Sign in button, a new window will pop-up giving you four options: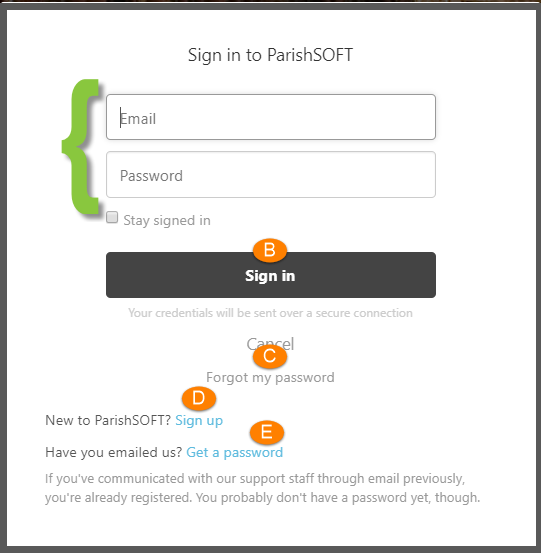 .
Sign up
The Sign-up option should be used if this is the first time you've attempted to contact our support team through a phone call or an email. Click the link to "sign up", and you'll be taken to a new window where you'll enter your name and email address. Make sure to mark the box that you are not a robot:

After you click the "sign up" button, you'll receive an email with your password to log in to the Support Center. You may need to check your spam folder if you do not receive the email in a timely manner.
.
Get a password
When you select the Get a password link, another pop-up screen will display asking for your email. Enter your email and click Submit. If your email address has never been used to submit a ticket with the Support Team, you will see a message at the top of the pop-up window which says, "no account found for the email address." In this case, either use the Sign-up option, or try another email address that was likely used to submit support tickets.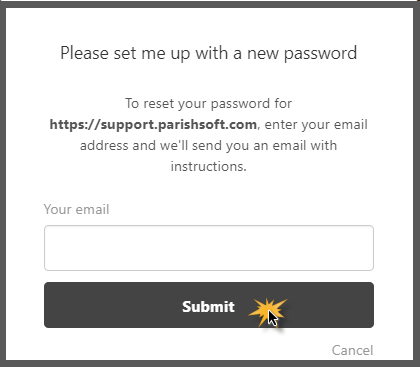 After creating your password, click the button to "Sign in" and access your profile.
.
Forgot my password
When you select the Forgot my password option, the following screen will pop-up. You will receive an email with a link to follow where you may reset your password. If you don't get the email, you may need to create an account.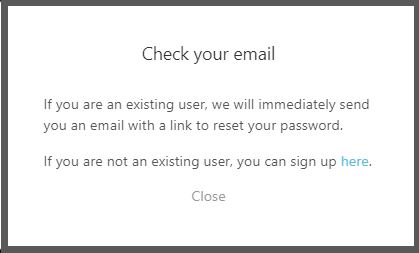 .
Edit your Profile
To edit your profile, select the down carrot to the right of your name in the upper right corner of the screen. To view your tickets, select the My Activities option.



Updated