How to file a pre-note for a direct deposit employee

For Churches that upload the ACH file for Direct Deposits to a banking organization, you must pre-note an employee at least 10 days prior to their first direct deposit and any time you make a change to the employee's account information.
The PreNote file contains all of the information in a standard Direct Deposit ACH file except for the amount to pay. This file ensures that all of the employer's and employee's bank account and routing numbers are entered properly. The bank uses this file to ping the Employee's bank account. If any information was entered improperly, the bank will contact you.
Before creating a Pre-note file, you will need to have set up Employee Direct Deposit Information. Please see How to set up direct deposit.
How to create a Pre-Note file for the bank
*For rare exceptions of skipping this, see How to print ACH receipts and generate an ACH file without pre-noting
To create a Pre-Note ACH file for the bank, click Setup → Prenote Employees.

This will bring up the option to choose a bank account and a list of employees (you can choose by PayGroups).

Once you have selected the employee(s), create the file. A window displays with an ACH file that can be exported. Save your file as a .txt file by clicking on the Save icon.




Depending on your browser, the open and save options may vary. Your file is now ready to be uploaded to your bank's direct deposit application.
How to print ACH receipts and generate an ACH file without pre-noting
If for some reason you need to print ACH receipts and generate an ACH file WITHOUT pre-noting you will have to mark the employee as "ACH file" and enter a pre-note date in the employee Direct Deposit screen that is at least 10 days before the payroll date.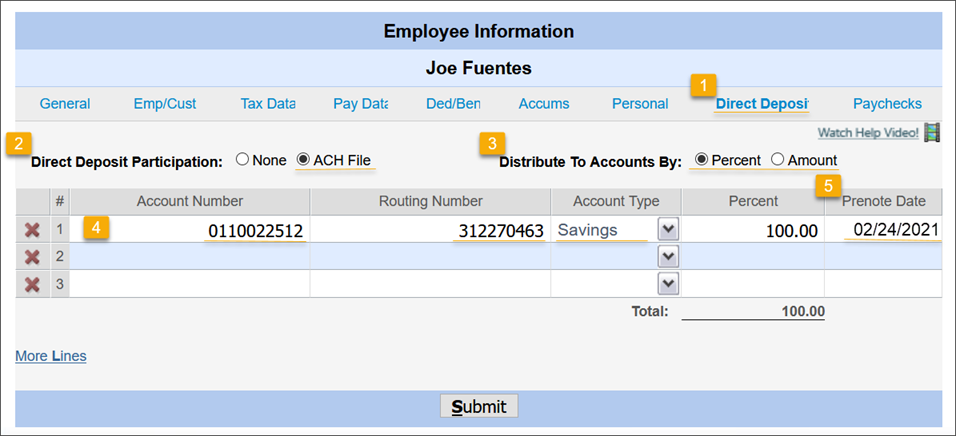 ---
Related Articles
How to print a paper check for a direct deposit employee
Updated