How to drill down in a report to find the source of the listed amount
Also described as 'How to find where amounts are coming from on a report'
When viewing reports, some, such as any report found in the Statements section (Ledger & Payables → Reports → Statements), will allow you to click on the amount to drill down to either the Account Balance Report (most) or the Account Budget screen (Monthly Budget/History Report). The Account Balance Report then allows you to click on any transaction to drill down into the source of each.
This feature is also available on several reports in the Transactions section (Reports → Transactions). For example, clicking on a transaction in the General Ledger Report will take you directly to the transaction source (unlike when using this feature in a statement, which takes you first to the Account Balance Report).
Your cursor will change when hovered over an amount or transaction which allows you to drill down.
This feature is available whether you use the Preview Report option or the View PDF option to view your report. When using the Preview Report option, you may use the back arrow to get back to where you started.
For example, clicking on an amount in the Statement of Financial Position will take you to the Account Balance report for the related account. In this example, clicking on the amount of 277.11 takes you to the Account Balance Report for the associated account, 1005.000.1.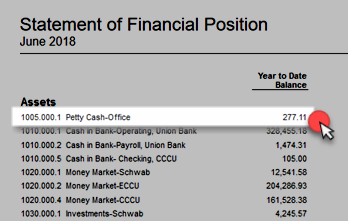 Clicking on any field in the transaction line in the Account Balance Report will take you to the transaction source such as the Journal Entry, the Deposit, the Check, the Paycheck, etc. In this example, it takes you to Journal Entry 2543.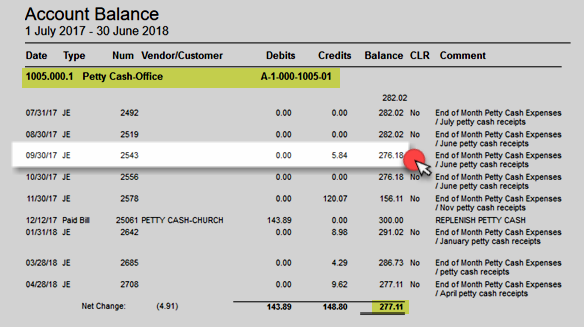 Another way to find the source of the transaction from a report
Depending on the report, the transaction type and transaction number may be included next to the transaction. To look at the actual transaction, go into the screen for the transaction type. There is a Find link in each screen: Find Bill, Find Check, Find Deposit, Find Journal Entry. Use the find link to search for the transaction.
In the screenshot of the Account Balance Report below, there is a paid bill and a journal entry. The number 62081 is the check number for the paid bill. The actual check transaction may be viewed by going to Checks → Find Check. Likewise, JE 3057 can be viewed in Journal Entries → Find Journal Entry.


Updated