How to archive an account

To archive, an account, mark the archive option at the bottom and click Submit.

Once the account has been archived, you may find the account through a Find Account or through a Quick Find search.
Archived accounts will not be available for use but they will show in dropdown menus for reports and you will have the option to include or exclude them on reports.
If the account cannot be archived
If you get an error pop-up screen, similar to this one, please see how to resolve each issue below.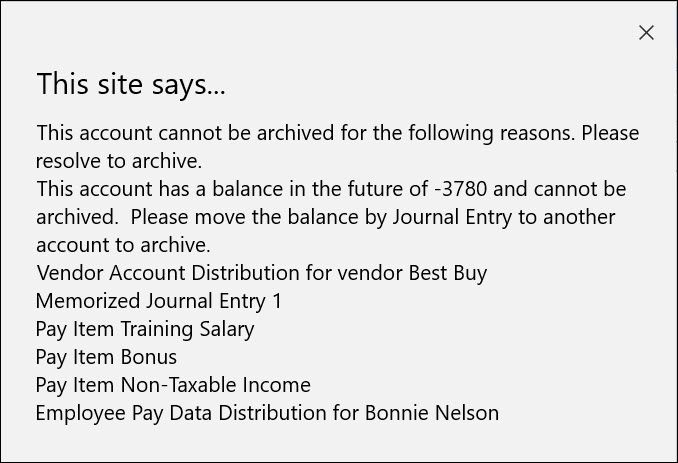 This account cannot be archived for the following reason. Please resolve to archive:
If the account has a current or future budget, the budget entry must be removed first; Note: zeroing out a budget amount will change the Annual Budget totals and should be discussed with the finance committee
If the account is being used in one or more memorized transactions, the memorized transactions must be deleted. To remove memorized transactions, you may go into the Memorized option, mark the delete box to the left of the transaction, and click delete. For more information, click here.
If the account has a balance, the balance must be removed through a journal entry
If the account is in a vendor distribution, the account must be removed or replaced. Click the link to learn how to how to remove the account from the vendor distribution.
If the account is in use as a Payroll gross pay account or in its account distributions you must Change the gross pay account or Change the account distributions
If the account is added as a multi-account distribution, you must change the multi-account distributions
If the account is assigned in Setup → Due To/From and Due To/From is turned on (it is not unusual for it to have an immediate balance). When it is turned off, as long as the account had only Due To/From activity, the balance will go back to 0.
If the account is assigned in the Process → End of Year net asset accounts, you must change it to a different account before the account may be archived.
If the account is used as a Subsidiary Bank Offset Account, you will need to remove the account from the primary bank account.
If the account is used as a Transaction Entry Default in a liability account you will need to update the general ledger account.


Updated