I would like to be able to start my Bank Reconciliation early in the month and work on it throughout the month.
At the beginning of the month (or any time through the month), assign the Bank Reconciliation the date you expect your next bank statement to have. Note: this is the only field that may not be changed later.
Set the Ending Balance to 0.00. (This may be changed later)

Begin marking entries as the bank clears them.
When you are done marking the entries each day, click Submit. As long as there is a difference in the bottom right field, submitting the Reconciliation will save the work you have done so far. (see image below)
How to update the Ending Balance and other fields in an open bank reconciliation
When you receive your statement, you may update the Ending Balance, Service Charge, and Interest Income fields from within the (still opened) Bank Reconciliation. Presumably, the difference will then be zero and you may submit to close this Bank Reconciliation.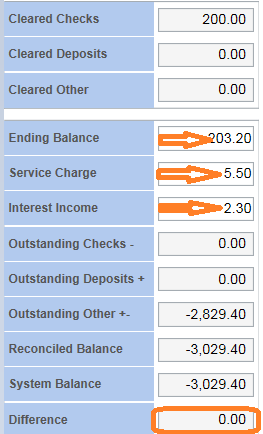 ---
Related Articles
How to reconcile your bank statement Basic Steps/Instructions
Updated