Enter Account Distributions

Account Distributions are used by the Payroll Process to determine which Expense and Liability accounts to use to update the General Ledger for deductions, benefits, taxes, etc.
Liability Accounts: all monies withheld from the employee's check for all deductions are credited to the Liability Account designated on this screen.
Also, the Employer Expense portion of any benefits is credited to the designated Liability Account while the designated expense account is debited.
The Deductions and Benefits listed on the Account Distributions Screen directly correlate with the items in the Manage Deductions and Benefits Screen.
To assign General Ledger Account Codes to each Deduction and Benefit used in the Payroll Process you must pull up each Gross Pay Account one at a time through the Quick Find option, and fill in the correct accounts. See the next three screens. This can be accomplished faster by using the Copy button described below.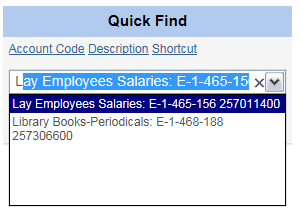 The Copy Button
When you are ready to add the Liability and Expense Accounts to the Account Distributions screen, you may want to have a list of all Gross Pay Accounts. These are the Accounts that are either assigned to a Pay Item in the Pay Item Information Screen, or to an Employee under their Pay Data screen, listed to the right of each Pay Item under Account.
Once you have your list, you may add the distributions for all of your Gross Pay Accounts in quick order. This is because once you have added all of the distributions for one Gross Pay Account, you may simply click the Copy button, and select the next Gross Pay Account on your list. This will copy the distribution from the Gross Pay Account currently on your screen, to the Gross Pay Account you select.
Then, if you need to make an adjustment here and there to one Gross Pay Account Distribution or another, you may pull each one up and make the modifications.
If you have a question on which Accounts to use for any category listed in the Account Distributions Screen, we suggest you consult with your diocese, an accountant, or your finance committee.
After assigning the distributions to each Gross Pay Account, Submit the changes.
---
Related Articles
Manage Deductions and Benefits
Updated