How to print a check after assigning a check number
When the
Assign Check Number
option has been used on a bill, the software registers the bill as having already been paid and will not print a check for it. Therefore, when you go to the create checks screen, the bill will not display.

The Assign Check Number option is for payments that are either handwritten checks, already paid transactions, or Electronic Fund Transfers. Once used, the check number and other check details replace the Assign Check Number option on the Bill Information screen.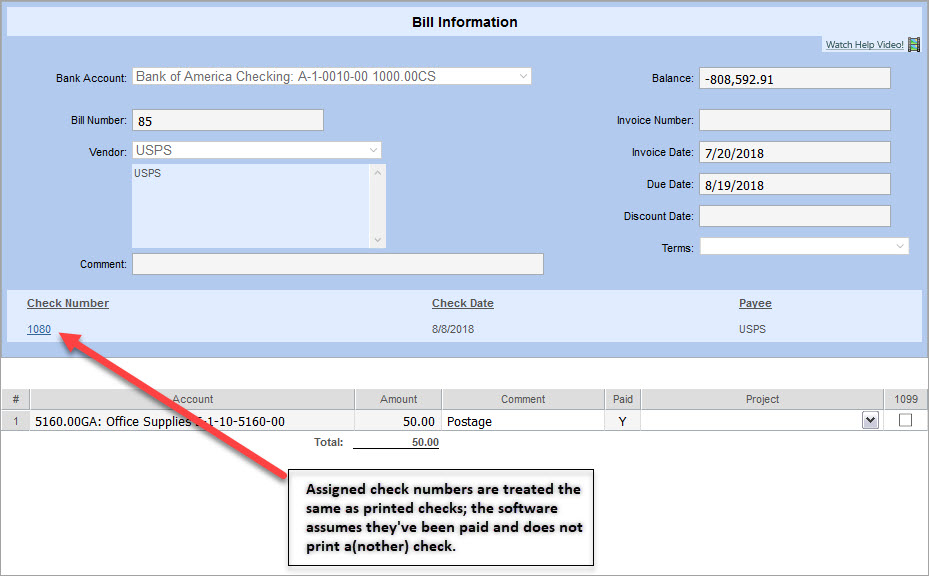 If you have assigned a check number but need to print a check, your only options are to either void the check or to delete the check.
If you void the check, you have the option to make a copy of the original bill and then continue to print the check for this new bill. See this article for more information.
When you delete the check, the assigned check number will be removed from the bill; the bill is no longer registered as having been paid. Therefore, you may go into checks and start the create/print check process and the bill will be available to pay. See this article for more information on deleting a check.

The delete option is only available if your login has the delete privileges. Privileges are set up and managed by your System Administrator and support is not authorized to change or update them.
Updated