How to stop the drop down date from covering part of the calendar
This is a local environmental issue caused by a computer setting. Disabling autofill, clearing the cache, or clearing the history may resolve this issue. For information on how to do this, see Related Articles below.
Software Support Representatives are limited in the ability to resolve local environmental issues. For this, you may need to consult your IT Department or a qualified computer technician.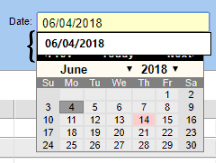 ---
Related Articles
How to disable and clear autofill info in your browser
How to clear the cache from your browser
Updated