How to set up a vendor to print one check per bill or to print one check per multiple bills

Go to the Ledgers/Payables tab.
Click on the Vendors icon.
On the right, use the Quick Find to search for the vendor for whom you want to print only one check per bill and bring up the record. If you can't find your vendor use this link: I can't find a vendor!
Once the vendor is displayed, click on the small blue words: 1099/Checks
The default printing options will be displayed.

You need to add a checkmark to Always print a separate check for each bill.
To change it back to the default, unmark that option, and then when you select multiple bills for one vendor, you will get only one check.
Note: If you would like to have all bill items detailed on a check/stub do not mark, "Print only one check if there are over 10 bill items," but this will produce multiple checks for that single bill.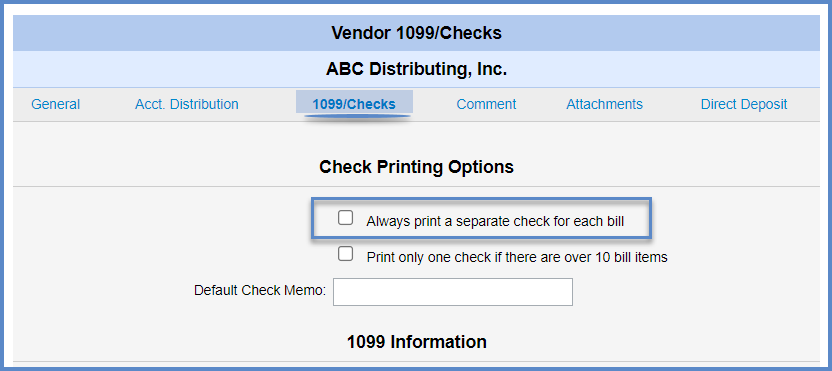 ---
Related Articles
How to delete or inactivate (or reactivate) a vendor
How to find an inactive vendor
What happens when I change the name of a vendor?
How to correct the spelling of a vendor's name
Updated