The check PDF did not display to the screen (or pop-up is blocked)
Also described as, "When printing a check, the print dialog box is blank."

Or, "Checks didn't print."
If you are using the Chrome Browser and the print dialog window is blank, click here.
If nothing happens when you select the Print Selected button, this article may help resolve your issue.
If you are immediately sent to the screen which asks if your checks printed correctly without the check PDF ever displaying to your screen, it may be for one of the following reasons:
The PDF is hidden behind another window
Hover your cursor over your browser's icon (usually at the bottom of your screen).
If you find the hidden check PDF window, click on that window to maximize it.
Pop-up blocker is turned on and there is no exception for the ParishSOFT Accounting web site
If this is the case, one option you have is to add the exception right when the pop-up is blocked as shown below. If you have already left the screen, you may still add the ParishSOFT Accounting Site as an exception for your browser.

Firefox pop up blocker is usually in the upper portion of the screen

Internet Explorer pop up blocker is usually at the bottom of the screen.

Chrome pop up blocker is usually at the top-right corner.
You are getting a Gray Popup Screen
Using the Chrome Browser and getting a blank screen
There is a setting in Chrome that saves PDF files to your hard drive rather than opening them. If you have that feature turned on, this would be the result.

If your screen looks similar to this one, there is a button on the bottom left of the window. If you click the button the check should display.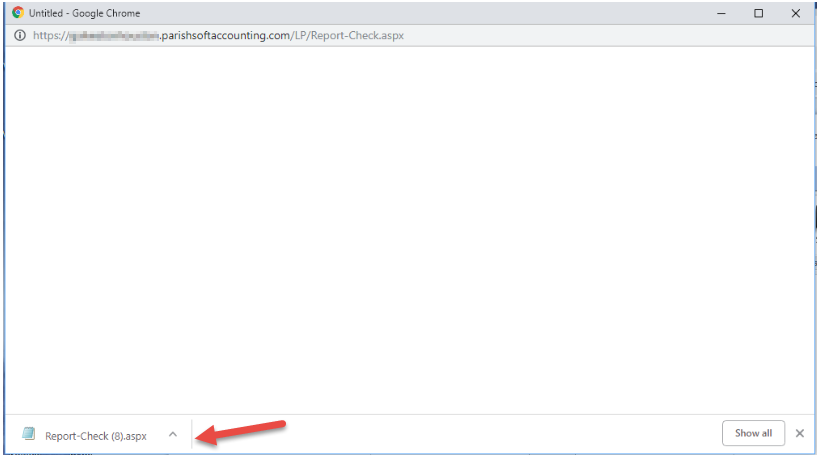 To fix this issue permanently, in Chrome, go to the button with 3 dots in the upper right corner of the screen. Then, go to Settings → Advanced → Content Settings → PDF documents and turn the feature off.
Additional Resources
How To Set Up PSA for Printing has information how to set up your browser to use with ConnectNow Accounting. It includes information on Popup Blockers and PDF settings.

If the checks show as printed but did not print, you may be able to locate the PDF or file. In your browser, look to see the location where files are being saved. Then look for the file in that location. In the example below you would look in Downloads.

Firefox--this is how it looks in Firefox. General-Files and Applications

If you are unable to locate the file, see How to Void or Delete Check
Updated