How to create a bill

Go into Ledger & Payables → Bills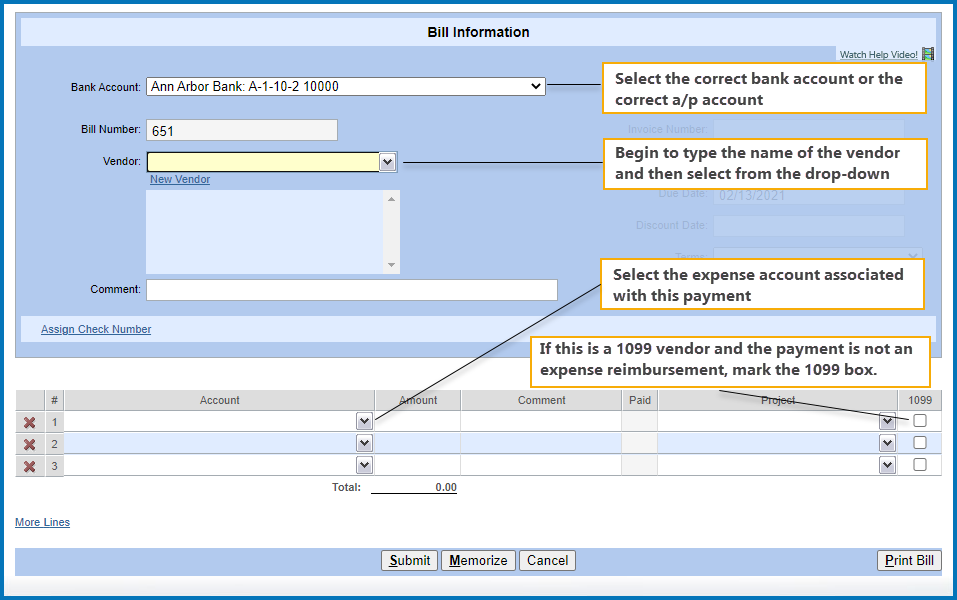 Ensure the correct Bank Account is selected from which you plan to pay the Bill (Cash Basis) or the correct Accounts Payable Account is selected if you use Accrual Basis Accounting.
Begin to type the name of the Vendor in the Vendor field.
If the Vendor has not yet been added, you will get an error that the Vendor is a required field when you submit the bill. You may add the Vendor from this screen by clicking on the New Vendor link just below the Vendor field.
Select the correct Expense account in the grid and enter the amount and any comments.
Before submitting the bill:

If this bill was paid through an electronic funds transfer, you may click the Assign Check Number link just above the account grid and enter the EFT number. Make sure you add letters to this number so it doesn't throw off your check number sequence.
Note the 1099 checkbox:

If this payment is supposed to be included on the Vendor's 1099 but this vendor has not been marked in the Vendor screen as a 1099 Vendor, you may mark the 1099 box to the right of the 1099 line item.
Expense reimbursements are generally not marked as 1099 items, so if the 1099 box is marked by default for this vendor and the line item is a Vendor expense reimbursement, you may uncheck the 1099 box.


Updated