How to handle voided checks in the Bank Reconciliation
When you go into the bank reconciliation, you will see the original check AND the journal entry. You need to clear both transactions in order to balance.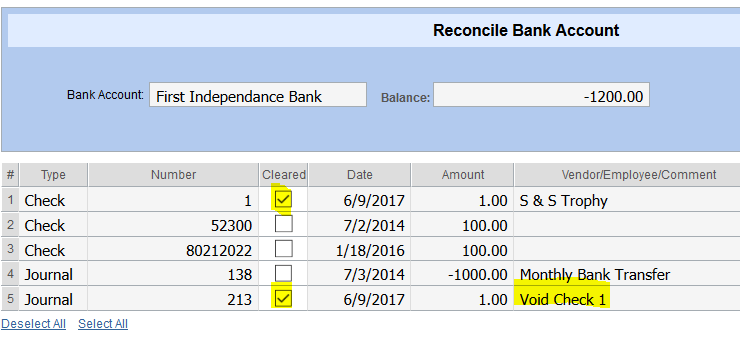 If you do not find the reversing journal entry, it is because it has already been marked on a previous bank reconciliation erroneously, has been dated in the future or because it has been erroneously deleted. If the latter is true, it can be re-created through the Journal Entry option, and then mark them both.
The Journal Entry would need to be dated on the void date and would debit the bank account and credit all the original line items that were in the bill. If it had been marked on a prior bank reconciliation, it could be that it was cleared against another check for the same amount or a reversing Journal had been created and marked at the same time. You may need to have the bank reconciliations and periods re-opened so the correct information can be recorded.
---
Related Articles
How voided checks are recorded
I voided the wrong check. How do I un-void it?
How to correct having voided the wrong check or to unvoid a check
Updated