What happens when you click 'Checks did not print correctly'
After the final page in the check printing process where you select print selected checks, you should get a PDF pop-up that contains your checks.
If you note the check numbers are incorrect, you do not have to print the PDF. You may instead close it.
You will then be prompted with the following options: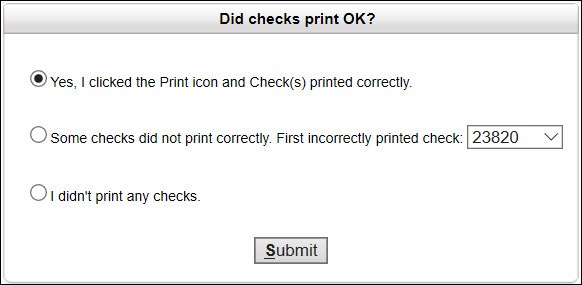 If you choose Yes, I clicked the Print icon and Checks(s) printed correctly, your checks will be marked as having printed, the check queue will be cleared, and the next time you need to print checks, only bills that have not yet been paid will be available for creating checks.
If you choose I didn't print any checks, the checks will still show as having been created in the software. However, they will still be available in the print queue. They will stay in that queue until you choose the first option.
After submitting this option, you will be taken directly to the Print Checks (Print Selected) screen.

The one thing you may do after creating checks and getting to this point is to change the check number. Then, print the checks again to create the PDF and print.
If you exit the screen and go into checks another time, you will be prompted as follows

If you select OK, it will take you to the screen where you may resume printing this particular batch of checks.
If you select Cancel, it will take you to the checks screen where you can do the normal things on that screen such as lookup or print checks.
Updated